5 ways to expand your reach in today's talent shortages.
12/02/2022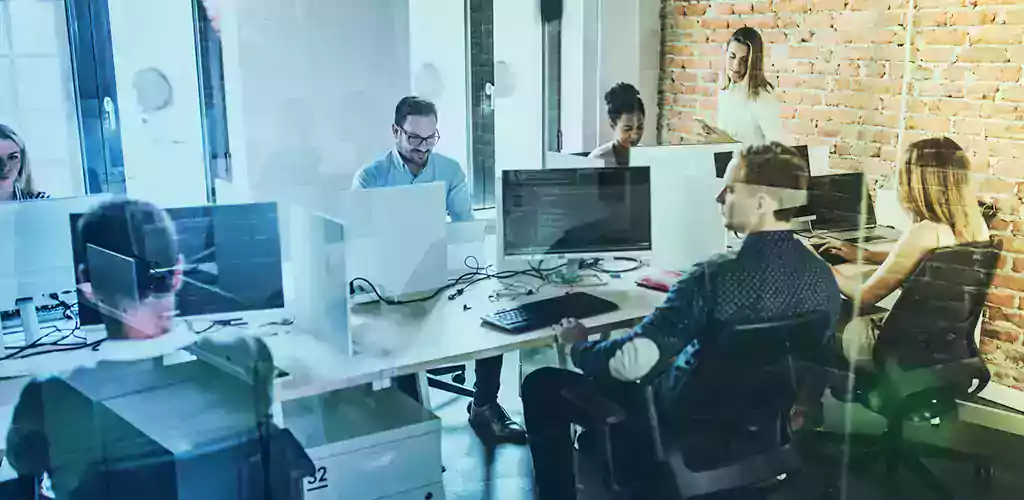 A lack of available talent is increasingly impacting companies today for the key people they need in scientific, engineering, and technology roles.
According to the Bureau of Labor Statistics, the scarcity of engineers in the U.S. will reach 1.2 million by 2026. They estimate the global shortage of software engineers may reach 85.2 million by 2030. Amid similar conditions, other research reports that 71% of life sciences companies plan to increase their workforce this year.
So, what can employers do today in the face of ongoing talent shortages? Plenty. In fact, now's the right time to evaluate your policies and ensure that the status quo is not creating any unnecessary barriers to talent. Read on for five ways you can strategically expand your reach.
1. Re-examine your screening and hiring practices to find hidden workers.
First, consider recruiting from pools of talent that you've previously omitted. There are millions of workers in untapped talent pools who are skilled and willing to work, but needlessly excluded from the labor force. A recent study from Harvard Business School and Accenture estimates there are 27+ million 'hidden workers' in the U.S. alone. These employees come from often overlooked categories such as veterans, caregivers, and people without traditional degrees, as well as people who were previously incarcerated, neurodiverse individuals, and people with disabilities. The benefits of engaging hidden segments are worth your investment. Employers who hire these workers are 38% less likely to face challenges finding people with the necessary experience, and 44% less likely to face challenges finding people with the necessary skills. They're also 36% more likely to find candidates who have the right attitude or motivation. Recent Kelly Equity@Work research also supports this strategy, finding that 80% of Americans think employers should value the relevant skills that military veterans acquire while serving, and factor them into hiring decisions. About 7 in 10 Americans also believe employers should eliminate or reduce blanket bans that automatically reject job seekers who have prior, minor non-violent offenses on their criminal record.
Forward-looking employers today are adjusting their approaches. Several candidate screening practices that you might want to reconsider include:
Rethinking legacy requirements such as college degrees, extensive experience levels or employment histories, and drug testing practices.
Considering whether your hiring processes and communication methods support—or, more importantly, make it more difficult for—underrepresented groups of people.
Asking whether your hiring, screening, and employment practices should vary across locations.
2. Walk the walk on diversity, equity, and inclusion.
Take some proactive and broad steps to improve diversity, equity, and inclusion (DEI). Despite the rising importance of DEI in recent years, Kelly research found that many companies still haven't taken concrete actions. Only about a third of firms have implemented innovative initiatives to improve DEI—such as sponsorship programs, advocacy and employee resource groups, or an engagement strategy to attract talent from underrepresented groups. Now's the time to enhance your program for a real competitive advantage over any of your lagging peers.
People want to work for organizations that truly invest in DEI and honor their commitments to improving it. A recent Deloitte survey discovered that 76% of workers say a diverse workforce is important in evaluating companies and job offers. According to another report from McKinsey, 40% of workers say they would consider leaving their job if they couldn't trust their organization to fulfill its DEI commitments. In response, companies across industries are working to boost DEI to create more inclusive and welcoming work environments.
3. Make sure flexible work arrangements work at your company.
Flexible work can take different forms, and workers today overwhelmingly want to keep hybrid work models. Some workers, particularly those from underrepresented groups, say that a lack of hybrid work is now a deal-breaker. In a recent study by McKinsey, 85% of employees currently working in a hybrid model want it retained going forward. This strong preference appears across industries, geographies, and demographic boundaries.
71% of workers who prefer hybrid work would look for other jobs if a hybrid workstyle wasn't available. Younger workers were 59% more likely to leave their jobs than older workers. LGBTQ workers were 24% more likely to leave than heterosexual workers. Employees with disabilities reported as 14% more likely to leave than workers without disabilities. In another survey, 68% of engineers say they've changed jobs for remote opportunities.
Your approach to flexible working itself also needs to be flexible. As another McKinsey report demonstrates, true flexibility allows workers more freedom to determine where, when, and how their work is done. 90% of workers who recently left the workforce and later returned say that having control of where work can be done was an important factor. This may include allowing parts of an in-person job to be done remotely, or creating hybrid work models with flexibility on required days in the office.
75% of workers say that having control over when they work—whether in person, hybrid, or remote—was a key factor in their decision to accept their current job. And 60% of in-person employees and 80% of hybrid or remote employees said having control over how their work is completed was an important reason for taking their current job. This can include empowering workers to decide the best way to accomplish work tasks, or allowing them to pace their workloads. Whatever makes sense, find ways to increase flexibility in your unique work environment. A more proactive and creative outlook toward worker flexibility can increase productivity, engagement, and improve your access to talent.
4. Ensure that your wages and benefits are competitive.
Employers understand that the rules of compensation are shifting—but again their practices may not be keeping up with the changes. For instance, a recent Payscale best practices study found that 86% of organizations either have a compensation strategy or are working on one, but only 53% are confident in their total rewards package to attract and retain talent. Likewise, 85% of organizations are worried about higher inflation levels in 2022, but only 29% raised their 2022 pay increase budget beyond what was originally planned. That's a disconnection you can use to your benefit.
Other studies show that to attract and retain talent, employers need to be more competitive and creative when it comes to compensation. Competitive salaries and wages are critical, but so are benefits tailored to today's workforce. Many are moving beyond a one-size-fits-all approach to compensation and benefits. Some winning strategies that you can try include:
Raising base salaries or hourly wages for existing workers and new employees
Sign-on or attendance bonuses
Decoupling of pay and location
Examining and addressing pay equity issues
Offering non-cash benefits that matter, like those focusing on wellness, personal growth, family support, and flexibility
Performance-based bonuses or compensation packages
Incentive programs that increase retention
5. Use multiple channels to access your talent.
Finally, to solve talent challenges many organizations are taking a closer look at where and how their talent is sourced. Successful recruiting requires a multi-channel approach. Cast a wider net and expand the ways your talent is being sourced by using a mix of tactics.
The top hiring sources for high-quality candidates today are:
Some are also finding hidden internal talent: 40% of recruiters say they're hiring more from internal employee pools since the onset of the pandemic. About 35% of organizations say they're hiring more freelancers and gig workers today, a 13% increase since 2020. Meanwhile, 49% of recruiters planned to increase their outreach to passive candidates in 2022. Kelly partners with clients to offer proven workforce solutions that target each of these key candidate groups, and many more.
As one example of finding talent across channels, pharmaceutical giant Sanofi launched the Digital Accelerator Academy to help upskill the company's internal workforce. By partnering with the international nonprofit organization Women In Tech, Sanofi wanted to close the gender gap in the digital field. The Academy will reach approximately 300 people in the next two years at various locations that will support the company's global digital strategy and attract new talent. Not only will the upskilling program help Sanofi fill its open positions, but it will also integrate more agile ways of working into the company's culture.
Of course, keeping up with multiple job boards, career sites, and these other sources can take a lot of time, money, and burden your own dedicated internal resources. Some companies are expanding their access to talent via emerging and innovative sourcing strategies, such as global sourcing, using alumni and returning workers, or engaging temporary and outsourced talent from staffing providers like Kelly®.
We've got work figured out.
In calm or chaos, you can count on us for guidance. Because we've been around, and we'll be here for you. We know a thing or two about the future of work—and we can't wait to help you discover what's next.
Contact us at 800.Kelly.01 and one of our agents will administer your request. Or, if you'd prefer, fill out the form to submit an email.
Learn more!