Global Survey Reveals Employee Satisfaction Struggles in Science, Engineering and Tech
06/06/2023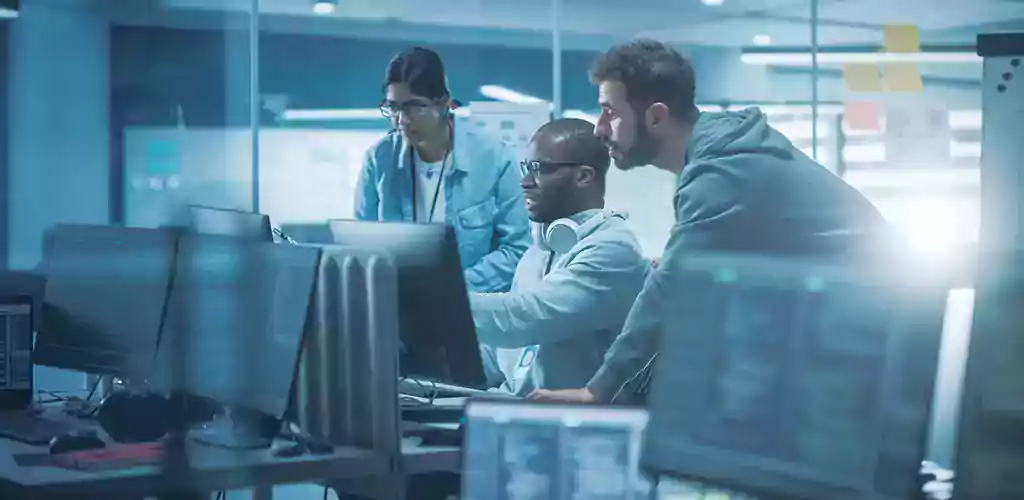 ---
Kelly recently released the findings of a global survey of senior executives and talent, revealing that employee satisfaction is waning across sectors, including science, life sciences, engineering, and tech.
The 2023 Kelly Global Re:work Report , which surveyed 1,500 executives and 4,200 employees across 11 countries and 9 sectors, found that employers are failing talent on several measures including flexibility, diversity, equity and inclusion (DEI) and training.
The findings are a wake-up call for businesses to take steps to improve employee satisfaction and retention, or risk losing top talent to competitors.
Life sciences and engineering talent demonstrate staying power, but poor work-life balance presents looming threat
Talent in life sciences and engineering are least likely to leave their current employer within the next year. Life sciences talent most likely to leave cite poor work-life balance as the top reason (55% compared to 28% of all workers).
Science executives lead across industries in offering greater flexibility and embracing automation to enable employees' focus on more interesting tasks. Engineering executives rank high in offering development opportunities.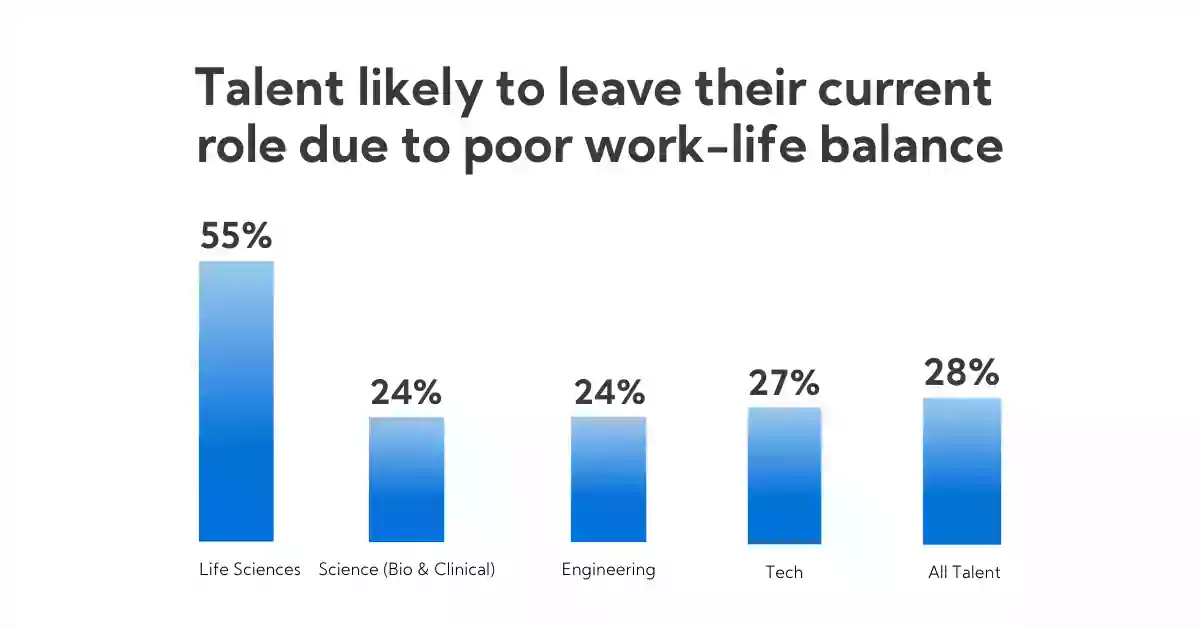 Other highlights:
Science talent cite autonomy as a reason to stay with their current employer.
Life sciences and engineering talent report their employers are supporting workers' mental health and offering flexibility, and providing an environment where they feel psychologically safe and a sense of belonging.
Both science and engineering talent say they experience staffing shortages monthly or every three months.
More than half of life sciences talent report that they have participated in "quiet quitting," refusing to do more than their roles require. Meanwhile, science talent are among the least likely to engage in quiet quitting.
Life sciences and engineering workers report employers pay lip service to DEI
While life sciences and engineering workers are most likely to say their employers support DEI (leaders model inclusive behaviors, champion DEI initiatives and support workers who are disabled or neurodivergent) this cohort is the most likely to say their employers merely pay lip service to DEI (45% of life sciences and 42% of engineering compared to 38% of all talent).
Engineering and life sciences executives seem to agree with talent; they fall below average on taking steps to improve DEI. Science executives, however, are above average on the same measure.
Engineering executives lead in training and development
Engineering executives are most focused on skills training and development, the survey finds.
Engineering executives are most likely to say that the skills needed to perform job functions will change dramatically in the next five years and support a culture of continuous learning. They lead in implementing accelerated training programs and offering job rotation programs for upskilling. Likewise, engineering talent, as well as talent in energy, science, life sciences and tech, report good skills development and career progression opportunities.
Tech talent least happy with their employers, most likely to leave
Employees in the tech sector score their companies below average across many categories, particularly DEI, and report they are likely to leave their employers within a year.
Tech talent and employers are not aligned on DEI: More than half of tech leaders say they are effectively taking steps to improve DEI—the highest among sectors—but less than 10% of tech talent score their employer positively on DEI, the lowest among sectors.
Other highlights:
Less than one third of tech talent say their employer understands the needs of disabled or neurodiverse employees, the lowest among sectors.
Less than one third of tech workers say they work in a psychologically safe environment.
Only 43% of tech talent report their employer cares about their mental health, compared to 55% of engineering and 61% of life sciences talent.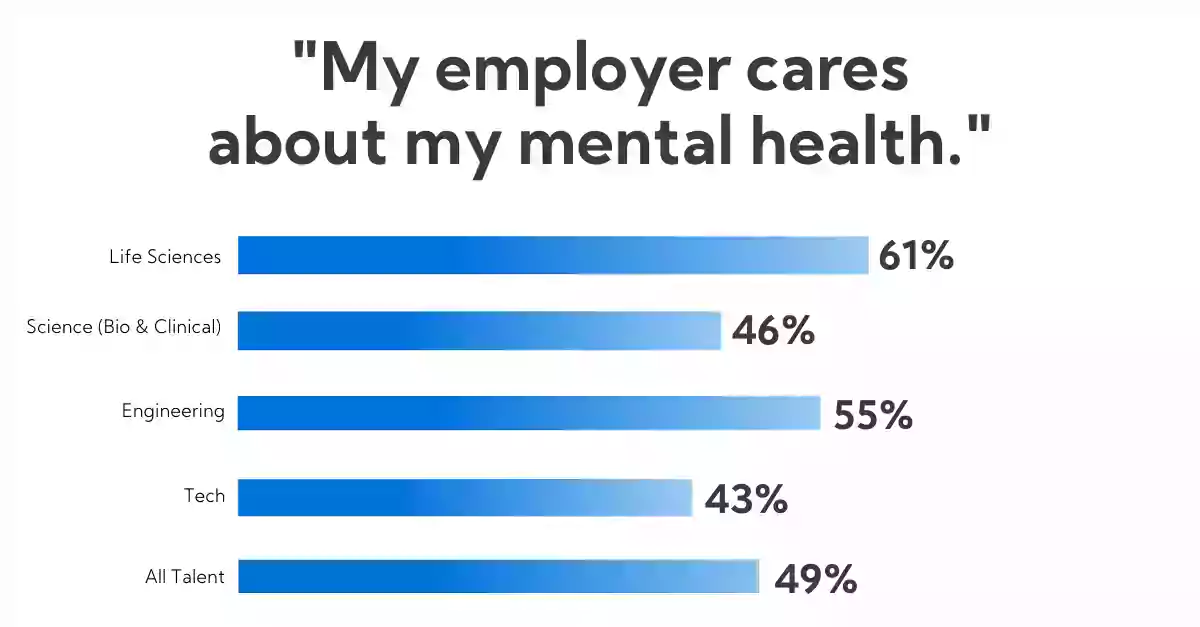 Do you work in a psychologically safe environment? Take the quizExternal link. to find out.
Despite struggles revealed in this report, the survey also demonstrates that thriving organizations—Resilience Leaders, 12% of the executives surveyed—are focusing on three key elements to build a strong, adaptable workforce: workforce agility, capability and DEI.
In this talent-driven market, it is imperative that businesses understand employees' priorities and strive to deliver. The value proposition from businesses to candidates has evolved beyond the role and compensation. People want to feel like they are making a difference in the world. For business leaders, getting clear on how you are making a difference in the world is not a bad place to start.
We've got work figured out.
In calm or chaos, you can count on us for guidance. Because we've been around, and we'll be here for you. We know a thing or two about the future of work—and we can't wait to help you discover what's next.
Contact us at 800.Kelly.01 and one of our agents will administer your request. Or, if you'd prefer, fill out the form to submit an email.
Learn more!