High-level IT talent in a hurry
03/29/2021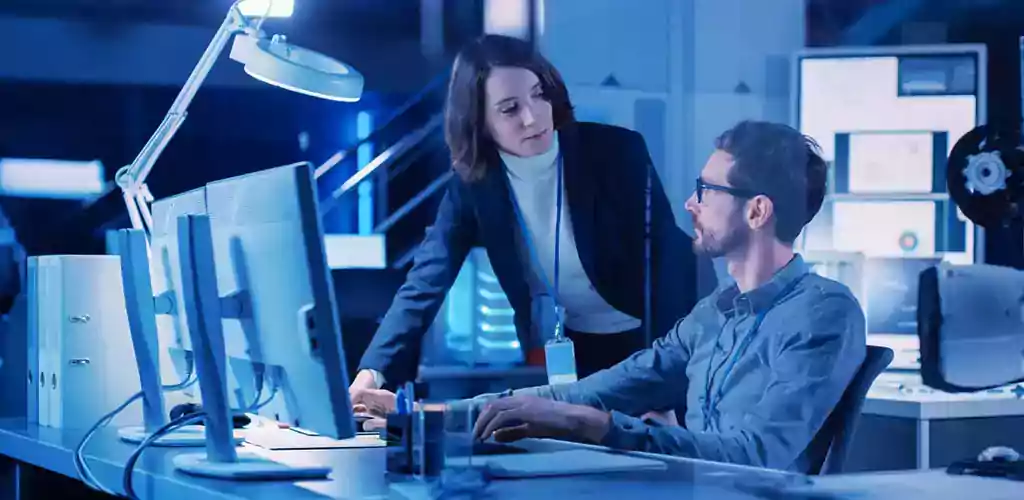 A leading provider of technology-based solutions for finance and healthcare engages Kelly® Technology for quick support to source a team of expert IT professionals for new business.
IT operations in high tech and other technology-driven sectors rely on efficiency and innovation to drive their bottom lines. The client, a global provider of technology-based solutions to the financial and healthcare industries, needs ongoing access to a variety of specialized technical talent to stay competitive. As the company's partner for workforce solutions, Kelly quickly delivered a number of high-level IT professionals in niche disciplines that the company needed to implement business for a new customer.
Results at a glance
Challenge
Skilled talent for IT services in healthcare and finance
High-level technical roles typically filled by an internal HR team
New customer driving quick demand for niche talent
Solution
Central team of recruiting experts to source technology talent
Three-day hiring event with access to hiring managers
Twofold approach for processing candidates quickly
Result
Kelly earned the trust to interview the best candidates
40 interviews with high-caliber candidates in 2 weeks
Placed 13 high-level Java developers, QA, and BA roles
Challenge
The company offers a wide array of IT services that range from strategic consulting, to transformative technologies, to full outsourcing of IT operations. Each of these solutions rely on deep industry knowledge, critical infrastructure, and service excellence to ensure that its own customers can master the escalating complexity of business and regulatory requirements in healthcare and finance.
The organization uses a multilevel security system designed to protect all client data. Each security level incorporates different protection methods designed to safeguard data integrity. As a matter of course, all of this technical activity is managed by highly skilled IT professionals.
Like many technology leaders, the organization is committed to using its own talent acquisition team to recruit for many internal, high level openings. But then the company gained a large new customer, and needed several key people that its HR team couldn't deliver in time—including Java developers, quality assurance experts, and business analysts. The client needed the positions filled in a hurry. This would not be easy, since every opening required sourcing of passive IT candidates. They called Kelly for help.
Solution
A team of Kelly business leaders was quickly assembled to map out a strategy for the project, and to support local Kelly offices with centralized corporate resources for technology recruiting. Kelly features a core team that's focused entirely on sourcing for openings in IT. Recruiters are located across the U.S., and are typically engaged when a client's project includes multiple positions and skill sets, often in multiple geographies.
First, the team was sure to set expectations, since the skill sets were in very high demand and would require passive searches that typically take longer. Secondly, Kelly insisted on having direct contact with the hiring managers and a commitment that they'd be available for interviews as scheduled. This close engagement helped to drive efficiency across the whole sourcing and hiring process. Next, Kelly hosted a hiring event where over three days, hiring managers interviewed candidates for the Java, BA, and QA openings. A twofold approach for debriefing was implemented to ensure the event's success.
Going into this event, the goal was to hire candidates by the end of the week. This meant that Kelly needed immediate feedback from both the client and candidates. So after each interview, one person debriefed the candidate, while another spoke with the hiring manager. At the end of each day, hiring managers and internal talent acquisition team members met with Kelly to review and determine which candidates would receive an offer. This process allowed for closing of the candidates and interviewers right after each interview, and then for getting all parties involved soon after to make a final decision.
Result
Initially, the company's internal talent acquisition team wanted to review every résumé before scheduling interviews. But Kelly rapidly earned their trust to find the best candidates and fill the interview slots without any guidance. In less than two weeks, the centralized team filled every one of the targeted 40 interview slots with high-caliber candidates.
The client was open to bringing on talent at either its Kansas City location or in Baltimore, allowing the Kelly team to broaden its geographic parameters for sourcing. The talent pool in Kansas City is shallow, but better in Baltimore—so using Skype® was an easy way to interview people effectively in both locations.
Considering the short timeframe needed to meet its new business requirements, the client really didn't expect to see the caliber of talent that was ultimately presented. But at the end of the day, Kelly quickly delivered and placed 13 positions with high-level IT talent solidifying its position with the company as a reliable source for even its most challenging technical openings.
We've got work figured out.
In calm or chaos, you can count on us for guidance. Because we've been around, and we'll be here for you. We know a thing or two about the future of work—and we can't wait to help you discover what's next.
Let's talk!