Outsourcing highly specialized power and performance engineering support services for a tech leader.
03/27/2023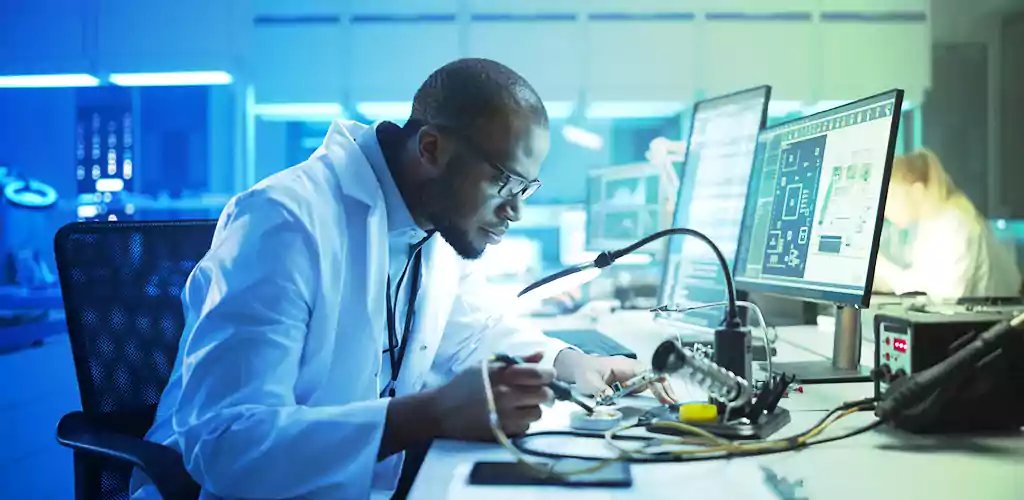 The challenge:
A way to outsource power and performance testing.
A traditional temporary staffing model wasn't working for the power and performance testing function at the client, a leading semiconductor chip manufacturer. Hiring contingent workers was too time-consuming, with regular attrition, and left the client to directly manage the talent. Contingent workers were also limited in how long they could remain on assignment before stepping away. The client had identified support and validation functions within their labs to delegate to a proven supplier, so their engineering teams could focus on other mission-critical projects. Technical skills for the service would require knowledge of PC hardware, test suites, scripting, and interpretation of test results. A team from Kelly® Engineering designed an SOW-based program tailored to power and performance testing.
The solution:
A team customized for specific validation lab support.
First, Kelly experts defined all the key areas of technical knowledge they'd need to source the right lab support and validation professionals. They soon built an outsourced team with the expertise to support hardware for all platform types that were using the client's chips or CPUs—from phones, laptops, tablets, and desktops up to high-end workstations. The team is responsible for all system assembly and setting up of the preproduction hardware, as well as for loading and modifying the required BIOS and operating systems, mainly Windows and some Linux. Depending on the platform, use cases for the technologies and applications tested can range from video conferencing, Teams, Netflix, and YouTube to competitive analysis, hours of battery life, web browsing, MS Office productivity, and Windows OS regression.
The value:
Reliable validation from proven technical tools.
Team attrition is now minimal without assignment limits in place. The crew of about 20 Validation Engineers and Technicians trains continuously to stay on top of the client's technology. That entails using the Microsoft ADK toolkit for assessment and deployment, Microsoft SDK for development and troubleshooting, plus Microsoft HoBL for testing battery life. Other software used for modification of Windows includes Regedit, command line, PowerShell, Python scripting, and C++. Benchmarks are completed using WEBXPRT, TouchXPRT, Mobile Mark, PCMark, CineBench, and 3Dmark. They use National Instruments DAQ software for testing exact on-board performance. Meanwhile, the client's own engineering teams are free to refocus on other key strategic R&D priorities.
"Kelly continues to position themselves as a jack-of-all-trades, I feel I can go to them for any task. I've asked for help with parts installation, platform debugs, and running debug experiments—all exceeding expectations." – Engineering Manager
We've got work figured out
In calm or chaos, you can count on us for guidance. Because we've been around, and we'll be here for you. We know a thing or two about the future of work—and we can't wait to help you discover what's next.
Let's talk!